Neo Code's
Simple Starter Sync  FileMaker Solutions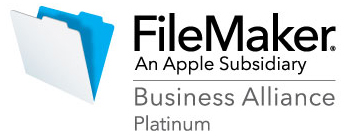 offer a unique advantage over other database applications.
Imagine that you want to:
Enter data in a hospital lab with no connectivity
Tag trees in a wilderness location
Take inventory in a below-ground storage room
Do timesheets for remote workers on site
And you want to make that information available to others, quickly and easily.
Using an iPad or iPhone,
you can enter data offline and have it sync as soon as you're online. That way, everyone who needs to access the data can – and you don't have to enter it twice.
Using your servers and equipment, and the Quick Start Guide provided, Neo Code's Simple Starter Sync databases provide:
Open Starter Solutions to fast-track your own auto-sync solution
Ability to work offline (not connected) in the field and sync data after connecting
A working prototype of how to integrate the open source FMEasySync technology
---
Neo Code is the only provider of FileMaker Starter Solutions with built in desktop-to-mobile sync. As a full-service custom software development business, we specialize in FileMaker solutions and offer complementary services to help our clients access their information anywhere.
In addition to Simple Starter Sync databases, we offer Hosting and Professional Customization. Read on for details, and feel free to contact us with your questions. If you have a complex data management problem, we will work with you to create a solution.
---
Neo Code's
Simple Starter Sync
The out-of-the-box solution is for you if:
You have no budget
You need a small or entry-level solution

10 or fewer staff using iPads at the same time
100 or fewer changes being made using iPads per day
Minimum Requirements
You have or have access to a FileMaker Server with enough connections for the number of iPads that will connect
iPhone with FileMaker Go
FileMaker Pro
You have limited FileMaker scripting experience
You have 2 hours
Recommended Requirements
FileMaker Pro Advanced – makes development easier
iPad with FileMaker Go – larger size makes data entry easier
You have some FileMaker scripting experience
You have 4 hours
Get Neo Code's FileMaker Starter Solutions
Pre-loaded to automatically sync your offline and online data (fast, secure syncing with FMEasySync). Work offline and share data with your team. Contact us to receive your copy.
Free Request your copy
Hosting by Neo Code
We offer a reliable place to host your FileMaker database. Our hosting service is for you if:
You have no IT department … or a very busy one
You don't want to deal with the expense and fuss of managing your own server
Upload your database to Neo Code's secure servers for 24/7 access to your data.
| Select 1 of these: | | You must select: |
| --- | --- | --- |
or
+
3 FileMaker
14 Database
Hosting Plan
3 FileMaker
14 Database
Hosting with
Standby
FileMaker WebDirect
/ Go Add-on
Contact Us
Professional Customization by Neo Code
This full service solution is for you if:
You need to create a complex application that syncs lots of users and lots of data
You have technical requirements – such as security and compliance issues – that need expert attention
You want someone to manage the job from beginning to end
You want to hire credible professionals with a strong record of success in creating high-performance FileMaker applications
Work with our FileMaker programmers to build a custom database that meets your business needs and goals.
Call or email to speak with one of our business analysts to see if a custom FileMaker solution is right for you.
Contact Us