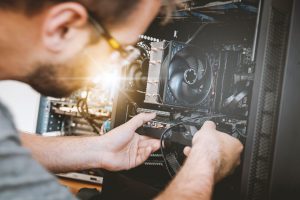 Businesses use custom business software for several reasons, each tailored to their unique needs and objectives.
Here are some common reasons why businesses opt for custom software solutions:
Custom Applications Provide Increased Efficiency and Productivity
A study by McKinsey & Company found that businesses that invest in custom software to streamline their operations and automate tasks can improve productivity by 20-30%. on average.
In a survey by Harvard Business Review 95% of IT leaders reported that custom applications improve their workforce's efficiency.
Custom Programs  Provide Competitive Advantage
According to a survey by Gartner, 70% of organizations believe that custom software development creates a significant competitive advantage for their organizations.
In the IT Outsourcing Statistics report by Computer Economics, 48% of respondents cited competitive advantage as a primary reason for investing in custom software development.
Custom Software applications Provide Cost Savings
Research by Accenture found that 70% of companies reported significant cost savings from custom software development, with an average cost reduction of 13%.
A study by Nucleus Research reported an average ROI of $7.23 for every dollar spent on custom software development.
Custom Programs Enhanced Security due to different Program Architecture
The IBM Study Cost of a Data Breach Report 2023 indicated that the average cost of a data breach for companies in the United States was $4.45 million. Custom software development allows businesses to prioritize security, potentially reducing the risk and cost of data breaches.
Custom Programs makes it easier to Scale
According to Statista, the global public cloud services market is projected to reach $397.47 billion in 2022. Custom software can be designed to scale with a business's growing needs, saving them from significant migration costs and disruptions.
Custom Programs are Easier to use and leads to better user Satisfaction
In a study  by Forrester Research, 73% of respondents said that they prefer using custom applications that cater to their specific needs over standardized software.
Custom software that provides a better user experience can lead to higher customer satisfaction and loyalty, which can be difficult to quantify but is crucial for long-term success.
Custom Software leads to better Data-Driven Decision-Making
A study by Dresner Advisory Services reported that 53% of organizations see business intelligence and analytics as critical to their business, and custom software can be tailored to provide specific data analytics capabilities.
Custom Software leads to Innovation
According to PwC's Global Digital IQ Survey, 58% of executives believe that innovation is driven by custom software solutions. Custom software provides the flexibility to experiment with emerging technologies and industry-specific innovations.
Tailored to Specific Needs:
According to Quick Base, Most IT leaders believe that custom applications provide a significant advantage because they are tailored to meet specific business needs.
Compliance:
In highly regulated industries like healthcare and finance, non-compliance can result in substantial fines. According to Deventure, Custom software development can ensure that businesses meet industry-specific regulatory requirements, reducing the risk of penalties.
Long-Term ROI:
A study by Nucleus Research reported an average ROI of 750% on custom software development, demonstrating its potential for long-term returns.
Ownership and Control:
Custom software gives businesses full ownership and control over development, maintenance, and updates.
This control allows them to make changes and improvements as needed without relying on third-party vendors. Based on the case study for IBM for WiPro the custom software created provided full ownership and control for the product and provided ROI: 928% overall with Payback: 6 weeks with Average annual benefit: $1,281,356 generated.
These statistics and examples demonstrate the tangible benefits that custom business software can offer to organizations across various sectors. Businesses often turn to custom software development to address specific challenges, gain a competitive edge, and optimize their operations, with the potential for significant returns on investment.